This is my last post on this blog to let you know that my blog has moved to my website
www.oksancia.com
.
From now on I will be posting my new artworks, projects, news, reviews and tutorials over there,
but this blog will remain as an archive for my posts created during the period of 2007 - 2009.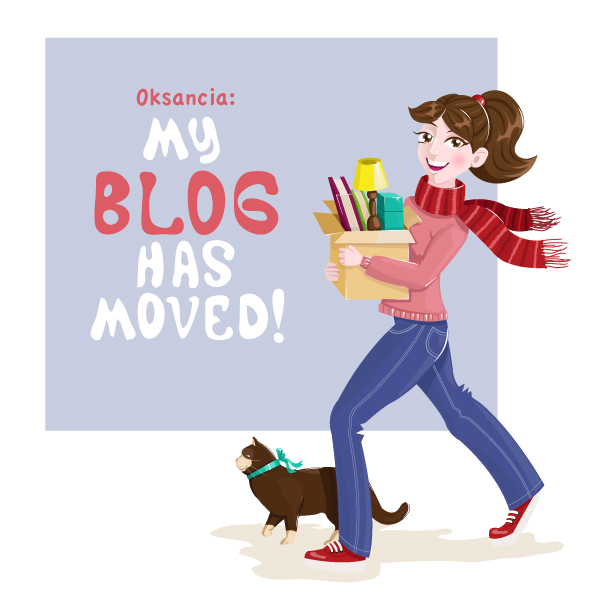 Thank you my current friends on livejournal for following me here!
I hope you'll use my new
RSS Feed
to subscribe to my new blog and stay in touch! :)
While preparing to winter celebrations I've decided to make a couple of illustrations about Tigers - the symbol of year 2010.
Two cute tigers - Mother Tiger and her sweet Baby Tiger decided to take a nap right here on my illustration...
RESTING TIGERS
While they are asleep I quietly put them on my one-page
Calendar-r-r 2010
available at my
Zazzle Shop
;)
My
first Twitter giveaway
is over now and I'm happy to announce a winner! :)
It is
Mario Ruiz (
mario9999
)
! Congratulations!
Mario is designer and illustrator from
Guatemala, currently living in the Netherlands.
He liked my ''Happy Cat" vector illustration so he will receive a small print of it with my signature.


Congratulations once again to the winner
and a big "thank you" to all the nice people following me and taking part in this giveaway!
Stay tuned for the next giveaways on my
Twitter Page
!
There is still some time till winter holidays, but I'm already getting ready ;)
I've made a couple of new Christmas vector illustrations
and created holiday cards and postage with them at my Winter Holidays Shop at Zazzle.
SANTA CHRISTMAS CARD
(
istockphoto
&
flickr
)
RUDOLPH REINDEER CHRISTMAS CARD
(
istockphoto
&
flickr
)
There are more holiday illustration to come! :)
I dedicated yesterday the whole day to sketching at
Emmen Zoo
.
What a great place! It is a big beautiful park, where animals have their territories and playgrounds. No cages... At some parts of this zoo you are walking among animals like at the Casa Americana and in the Birds and Butterflies Gardens. I love it!
I just took two sketchbooks, a couple of pencils, some water and a bit of snacks and set off to Emmen.
The weather was gorgeous!!! :)
I did a couple of small drawings of elephants, but curious Dutch kids , who were looking over my shoulder, got them as presents :)
I also discovered that people stopping to watch me draw and commenting on my drawings don't bother me. It was kind of cool to chat with them from time to time :)
So here are a couple of drawings I made:
TURTLES
These were the best models ever ;)
A4 drawing, pencil on paper.
(
More drawings...
Collapse
)
I recently decided to take more care of my
Twitter
.
It is a great tool for connecting with like-minded people,
to find a lot of inspiration, useful information and, of course, to promote your art.
I've been using Twitter for a while now, but only now do I start putting more effort in it :)
Apart from sharing information and my blog posts, I will also feature interesting people,
share some inspiring links and try to make new friends!
Yesterday I redesigned my Twitter page to make it more personal:
So come and follow me on Twitter! :)
[And please say "hello!" I would be happy to chat!]
OKSANCIA'S TWITTER GIVEAWAY!
I would also like to celebrate the "birth" of my Twitter with a little
giveaway
!
On
1st of November
I will randomly choose one of my Twitter followers,
who will receive
one of my Illustrations of his/her choice as a small print
! :)


How to participate:
1) Follow me on
Twitter
:)
2) Go to
my Flickr portfolio
and choose an Illustration you would like to get as a print.
3) Post a link to it on your Twitter page till 1 November 2009 using "@Oksancia" label, so that I can find you :)
Starts now! (14 October 2009)
Good luck and see you on Twitter!
* The little Blue Birdy is from my vector series of
Twitter Birds
.
Two little pieces I did recently with colored pencils and ink: "Fruit Tea" and "Mushrooms" both featuring a little sweet Gnome.
The drawings are on their way to participate in the
Anonymous Drawings
exhibition in Berlin.
I hope they get there safe :)
MUSHROOMS
FRUIT TEA
Practicing digital drawing in Photoshop.
For this one I made a quick pencil sketch and based on it my vector outline in Illustrator.
After that I experimented with digital coloring in Photoshop.
I like the sketchy texture :)
FLYING BIRD
[
postcards and merch on Zazzle
]
Detail:
Great news!
My
"Happy Cat"
vector illustration has been selected as winning artwork at the
Catcards (Котокарточки) contest
! :)
There are also
a list of other winning entries
that together will form a set of postcards with the main topic "cats".
As a prize I am entitled to one of these beautiful sets... ;)
Yay! My "Happy Cat" is twice as happy today! :)